Official web templates for UC Santa Cruz websites are built-in to the campus web content management system (WCMS). Additionally, there are themes available for Drupal and WordPress that are based on the official campus web templates.
Templates available in the campus WCMS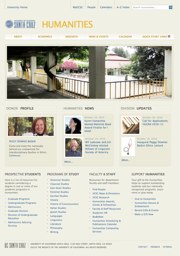 Division home page design
This is the description of the design and purpose of the division home page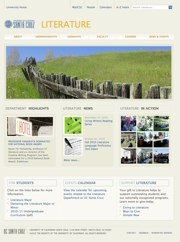 Department/College home page design
The goal for this template is to provide a family look with the University home while providing enough flexibility for the varied needs of individual sites. The umbrella navigation ties the entire university together, while the logo block reinforces the
current location. The main banner can be any type of image or slide show, but using the same University type treatments will help create a family look across sites. The blocks below the banner can be moved in any order and new blocks can be created
to serve the needs of the site. The 3-piece block at the footer is also designed as a promotional area with full freedom to design the contents. This page, designed as an area home page, should not be replicated elsewhere in the area's web site.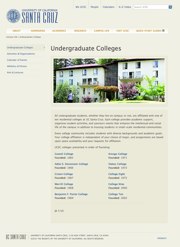 Left navigation page design
This left-navigation page is designed to provide maximum flexibility as a 2nd-level (or deeper) page within an area site. This page may be used for sites using with their own home-page top-navigation structure or for sites sharing the campus's top-navigation
structure.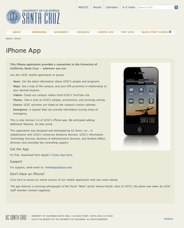 Single column page design
This is the description of the design and purpose of the single column page.
Designs used in the UCSC homepage environment only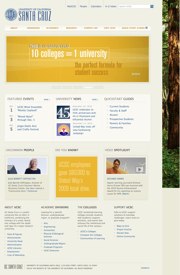 Home page design
As the front door for the entire university, this page serves as the foundation for the whole visual system, and deserves a unique look. As such, it was developed only for the UCSC home environment, overseen by Communications & Marketing. The Events/News/Links
block should be used only on this page. The Uncommon People, Thought Provoking, and View modules can be used on any division, unit, or function home page.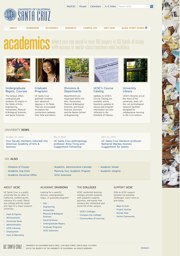 Landing page design
The design of this page is a solution to a specific problem—how to provide a menu of options and related news about a very wide range of topics. In the case of UCSC, this page was designed for use only in the campus home environment and should not be
used by other divisions and units as a second-level page.