Our digital world is a very busy one—with many competing messages hurled at us every day. It is why consistency and clarity is so important for a message to be heard. It is why being distinctive is essential.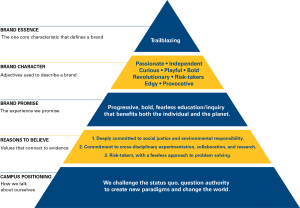 The messaging in the brand pyramid below is intended to be a guide, to give you the essential elements so you can craft your communication is a way that is right for your audience, convey the distinctive spirit of our brand and be unforgettable.
The UC Santa Cruz Brand Story
It is important to understand the history of UC Santa Cruz in order to get a sense of how our brand to be.
Read the story.