The media play a crucial role in sharing the story of UC Santa Cruz, and the campus has public information officers—often called PIOs—who are charged with working with reporters and helping spread news about UC Santa Cruz. The PIOs write press releases, directly pitch specific journalists, and respond to media inquiries.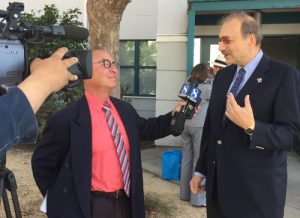 The PIOs regularly work with local, state, national, and international reporters and understand their needs and deadlines. Each PIO works to promote the teaching, research, awards, and events within the five academic divisions: Arts, Humanities, Social Sciences, Physical and Biological Sciences, and Engineering. Campus media coverage is highlighted on the UC Santa Cruz
newscenter
.
Sometimes reporters have general questions that can be answered by a PIO. Other times, they are hoping to interview an expert in a specific field or a campus leader.
Many times the coverage helps inform the public about work conducted by researchers or programs that are working to make the world a better place. Even when the topics are not positive, it's still important to share our perspective and have our voice included in the story.